How To Choose A Gym Water Bottle?
Views:94 Author:SH Plastic Tech Publish Time: 2018-09-27 Origin:Site
With too many options for a gym water bottle, this section outlines some of the most important factors to consider to make sure that you will end up with the right choice.
MATERIAL
Similar to choosing water bottle for other purposes, such as for traveling, plastic is the most common material. This is preferred by many because it is lightweight. Nonetheless, if you will go for plastic water bottle, there is one thing that you should be looking for – BPA-free construction. This will make it food-safe and free of chemicals that can contaminate the water. The glass water bottle is also a common material of choice. The good thing about glass is that it does not cause foul odor and chemical-like taste. It does not stain as well. Should you decide to settle with glass, it will be good if it has a sleeve, usually made of silicone. This is effective in providing protection for shattering. The lid also makes it easier to hold as glass can be slippery. There are also options that are made of stainless steel. This is great in terms of durability and insulation. It can keep the right temperature of your drink for an extended period. The problem, however, is that it can be quite heavy, especially when compared to glass.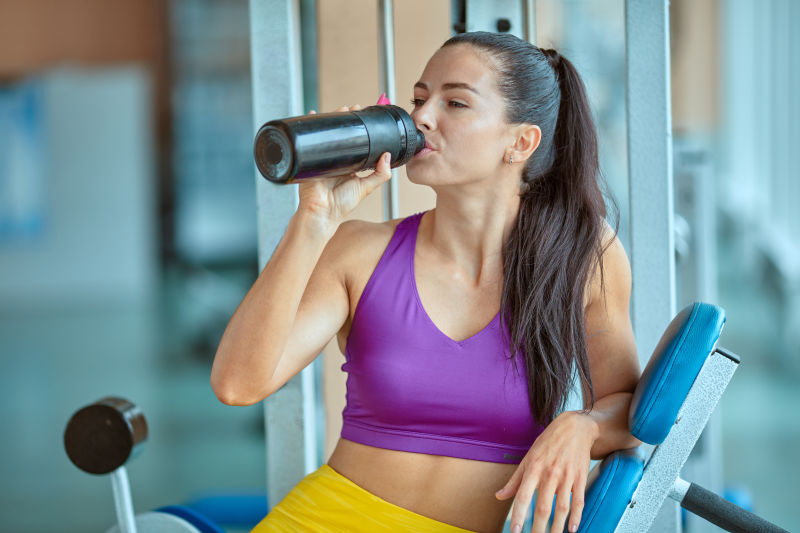 DESIGN
While aesthetic appeal is important, by design, I am talking about the ergonomics. Since you will be using it in the gym, it should be easy to hold even when you are moving, such as when using a stationary bike. It should have a good grip so that it won't slip. It should be made from a slip-resistant material, especially because your hand can be sweaty when you are working out.
SPOUT
The spout should also be well-designed, making it easy to drink water out of the bottle. In most of the cheaper options, there is a lid that you have to twist and you have to drink straight out of the mouth. A better option would be one that offers a push-button mechanism. Upon pushing the button, the spout should automatically open, allowing you to drink in an instant.
SIZE
The water bottle should be small enough so that you can easily bring it with you but large enough to make sure that you stay hydrated. While you will not need a jug, it will be good to choose a big one so that you do not need to refill often when you are already exercising. Personally, I would say that the right choice would be one with a capacity of one liter.
LID
The most important is for the lid to be leak-proof. This means that water will not spill, regardless of how much it moves when in your gym bag. Also, when you are holding the water bottle when you are exercising, when it comes with a tight lid, you can also be confident that water will not end up spilling.